Hannah Directory is a yearly print publication, website and launch week of events celebrating the great stuff that people are doing in places in England's north, and asking how even more of it can happen.
It is named after suffragette and rebel Hannah Mitchell, and it finds great stuff happening in music, business, the arts, new kinds of social organisation, scientific discovery and anything else.
I am very proud to be associated with this great project; it all came about through my contribution to a production across four northern cities entitled Wondrous Place, and despite circumstances contributing to me never having met its organiser Andrew Wilson, I have been lucky enough to be involved for three years now, and over the time, my admiration for his passion and organisation has multiplied.
This year's offering is well timed, given the referendum. I will not use this as a political soap box; my Facebook friends and Twitter follows have done enough of that. Rather, I will just explain how my Hannah project this year celebrates the north as an industrial hub, largely due to EU involvement, and links my creative well to my everyday (rather humdrum) life.
Ever the pragmatist, I realise this may be the last large scale project I undertake for a while.
Creativity has produced other masterpieces – these need my priority, clearly. So, I decided that for 2016 I would document journeys to and from school and continue a line of investigation which began years ago, funnily enough, in school.
My inspirational, though very traditional, art education, taught me painting and drawing skills with a view to creating what my lovely old teacher Mr Jones affectionately labelled 'chocolate box art'. later, the much more edgy and influential Glaswegian Iain Sloan introduced me to Joseph Cornell's 'worlds in a box', an afternoon tutorial which changed my life forever – and not just because it led to an afternoon wandering up and down Utopia Parkway in Flushing, Queens, hopelessly looking for the house of flotsam and jetsam.
I used to go and look at this one weekly when it was in Tate Liverpool:
Then, of course, my meetings with Sir Peter Blake and Alan Fletcher whose works were often encased in frames or cases, and led to my MA research into 'opening' fortune cookies via Shrodinger's Cat and the notion of introspection. All of this, I realise, is a whistle stop tour of twenty years of artistry, but seems important for first time readers or those who didn't know this side of me.
I suppose my interest in shipping containers started a long time ago, then, but was only really catalysed by my visit to Naples on my honeymoon and subsequent reading of Comorrah, the excellent explanation of the Neapolitan mafia's exploits, which starts with a horrific though rather sublime image of a swaying container full of dead bodies. "These were the Chinese who never die," Roberto Saviano said, and immediately conjured up memories of the unfortunate 23 I had drawn for Hannah two years ago.
The idea of opening, the port, the importing of goods, the change in social and industrial landscape, the movement of workers, the loss of jobs, the hidden produce inside, the smuggling of people, drugs, worse: all of this and more had affected this city too, and the dockers' fights were but a chapter in the changes that containerisation brought about. Similarly, teaching so intensely the story of Blood Brothers – in a new town formed by the displacement of dockers – resonated, as did our journeys to school misplaced by a new road to alleviate the problems caused by such lorries and containers around Switch Island. Add in the family history of cousins and uncles who drive the HGVs around the north, and that we live ten minutes away from pile and piles of the multi-coloured stacked boxes, plus that some pupils' parents make and then drive the things, Hannah 2016 just had to be about shipping containers.
Especially when you consider that last year I was obsessed with shopping lists, full of the things the containers bring to our now isolated isle.
An aside; as a child I also loved this song, and it offers a link to a previous project about pigeons:
https://www.youtube.com/watch?v=3cwT2UR4x4Y
Back to this project. So, from Easter to June, I took a sketchbook with me every day, and twice a day, drew every container I saw on the way to and from work. The colours, the logos, fascinated me, engulfed me, and I loved to see new versions or unusual examples on the M57.
I drew what I saw, but what developed was an idea about what was inside – as my sister and wife were expecting, that wonder of the unknown took grip and so my drawing and painting of the outside became secondary to the consideration of the goods inside, delivering themselves across the north.
Containers were not just consigned to here, too. Anyone who has had the pleasure of visiting Bilbao and the Guggenheim, will have seen the rather beautiful container there, and although I was a bit gutted my idea was not a new one, it was good to see that another artists had appreciated the aesthetic qualities of these boxes, and celebrated them as things of beauty.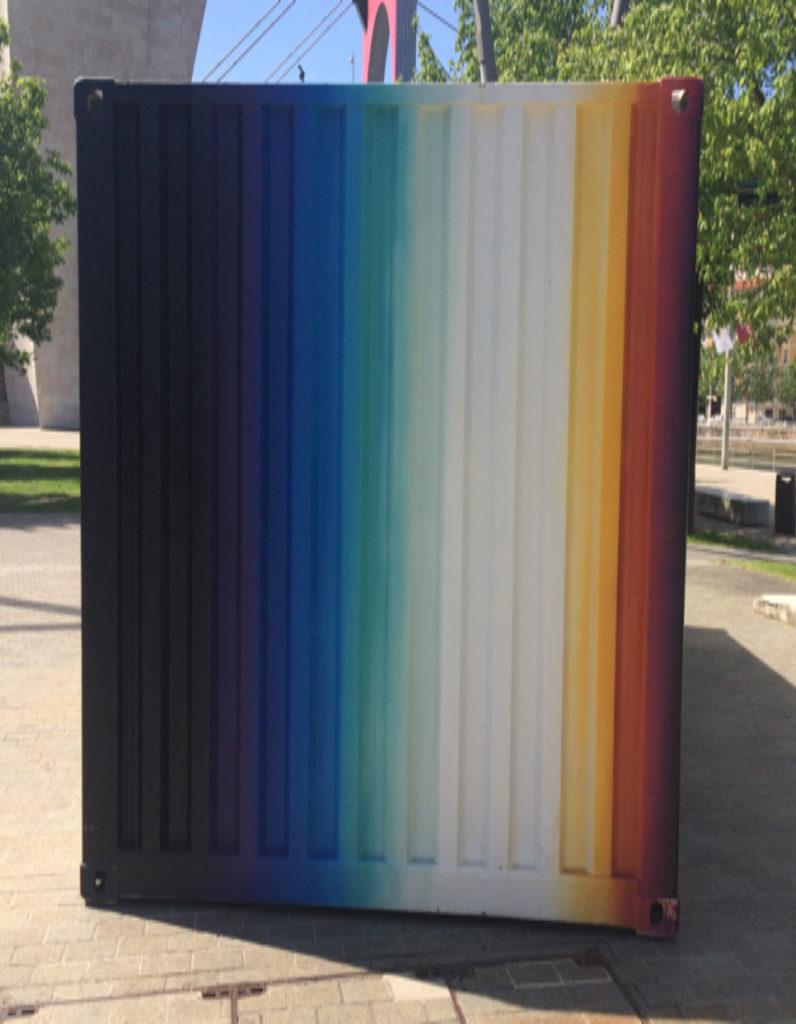 Talking of which, as my little nephew entered the world, plus my son in the autumn all things being well, it seemed an ideal opportunity to share with you the process of my thoughts when seeing all these containers and wondering what might be inside.
'Worlds in a Box' said Joseph Cornell. The boxes, the containers, have been my world recently, and what a world it has been. Over the next few weeks I will share with you the world I encountered – how I saw it, what I saw, why I saw it that way… and hopefully my drawings and paintings, plus my wondering what might be inside, helps you to acknowledge the importance that our HGV drivers ad their containers have on our lives in the north.
The things they bring, what they take away, how they get things around the place to make our lives better…