It's been half term, and a funny old few weeks have led to yet another well-earned rest… but this time, not much of a rest, with an added little twist.
We start with a poem.
Ahem… *coughs*
Nettles by Vernon Scannell
My son aged three fell in the nettle bed.
'Bed' seemed a curious name for those green spears,
That regiment of spite behind the shed:
It was no place for rest. With sobs and tears
The boy came seeking comfort and I saw
White blisters beaded on his tender skin.
We soothed him till his pain was not so raw.
At last he offered us a watery grin,
And then I took my billhook, honed the blade
And went outside and slashed in fury with it
Till not a nettle in that fierce parade
Stood upright any more.
And then I lit
A funeral pyre to burn the fallen dead,
But in two weeks the busy sun and rain
Had called up tall recruits behind the shed:
My son would often feel sharp wounds again.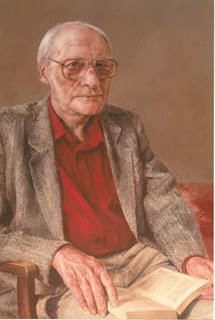 I've been teaching about this poem a lot, and it's particularly resonated over the last couple of weeks. You see, Scanell was a deserter and many think this poem was alluding to his experiences of service, as well as the fact that he sadly lost two children.
The common conclusion is that it's all about the agonies of parenthood, that inability to protect your children as you'd like to, and the realisation that no matter what you do, they'll suffer again in the future.
Whatever the meanings, my own epistemological standpoint means that I've come to liken it to the fact that my own son, aged three weeks, fell into a hospital bed and there was equally little we could do about it.
It all started two weeks ago with a bad couple of evenings  / early mornings which we thought was down to colic, so I went the chemist around the corner and spent £20 on remedies.
The following (Tuesday) morning, WW had real concerns that he wasn't moving his right leg, and was in ever increasing agony when being changed or held, so rang our health visitor and was advised to go to A&E at Alder Hey.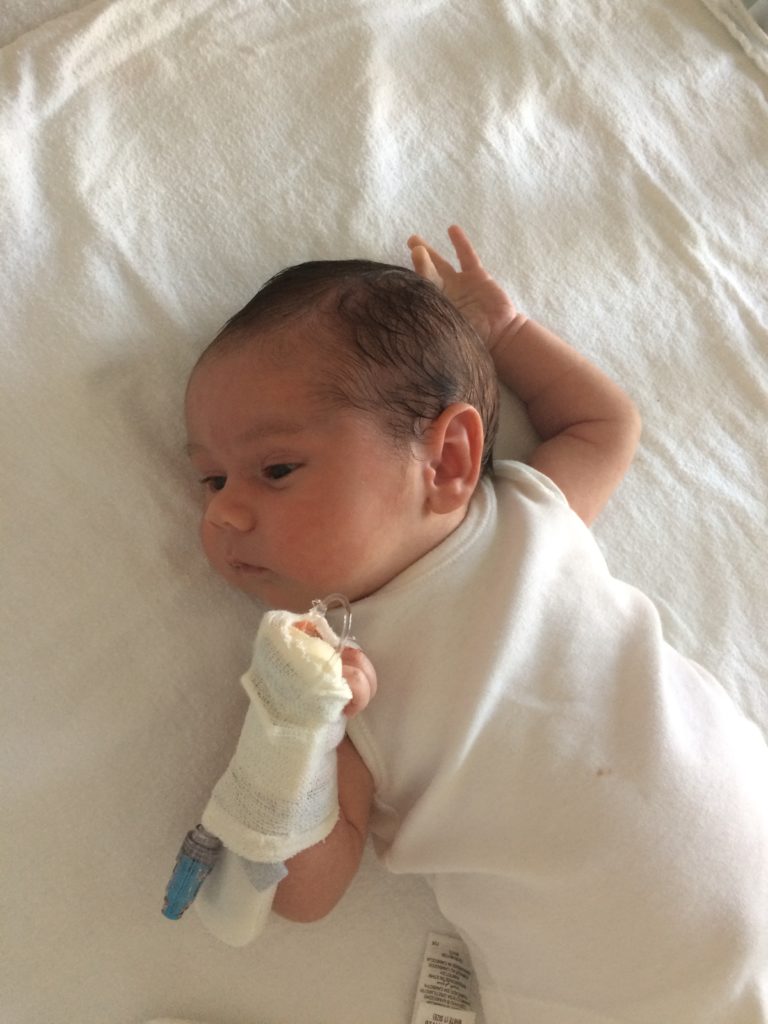 This picture was taken a couple of days in… She ended up there for ten days with him.
They knew on the first day it was an infection, thankfully nothing too sinister, so started him on antibiotics. I was there all day the Wednesday waiting for a MRI which never happened, the next day was the worst as he was on a drip and couldn't feed, he was inconsolable and eventually had the scan at 5pm. Those few hours were some of the hardest we've both shared, whether as parents or otherwise (otherwise? Did we even have a life before kids?)
We were sat in the room waiting for him to come round after the GA and a doctor came in to explain the infection was worse than what they'd thought so they'd decided to operate straight away. We panicked, despite the fact that we knew there were much worse off kids and parents on the ward, but he was ours, so little and helpless.
Plus, we didn't really understand…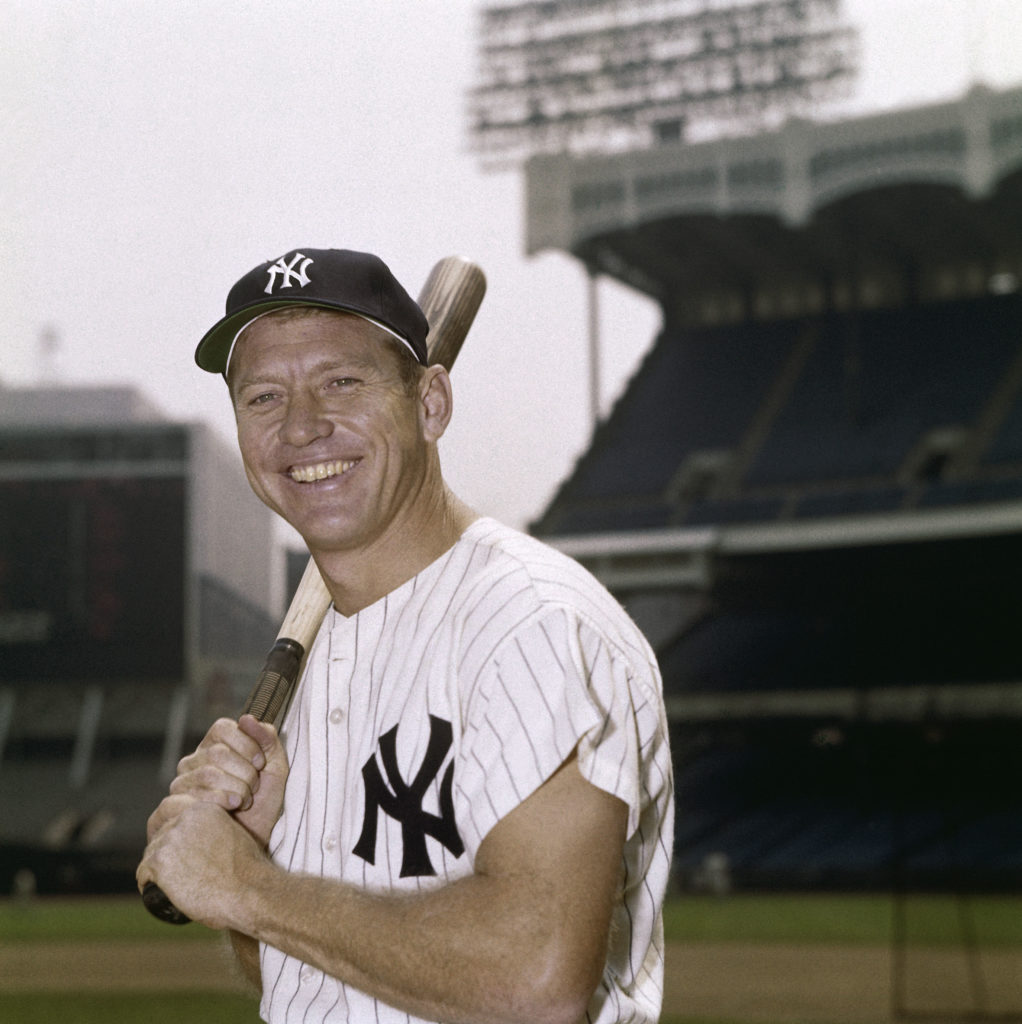 Research discovered that Mickey Mantle's career was cut short by the same issue: osteomyelitis, as illustrated brilliantly in this beautiful little painting by Thomas Eakins entitled The Gross Clinic.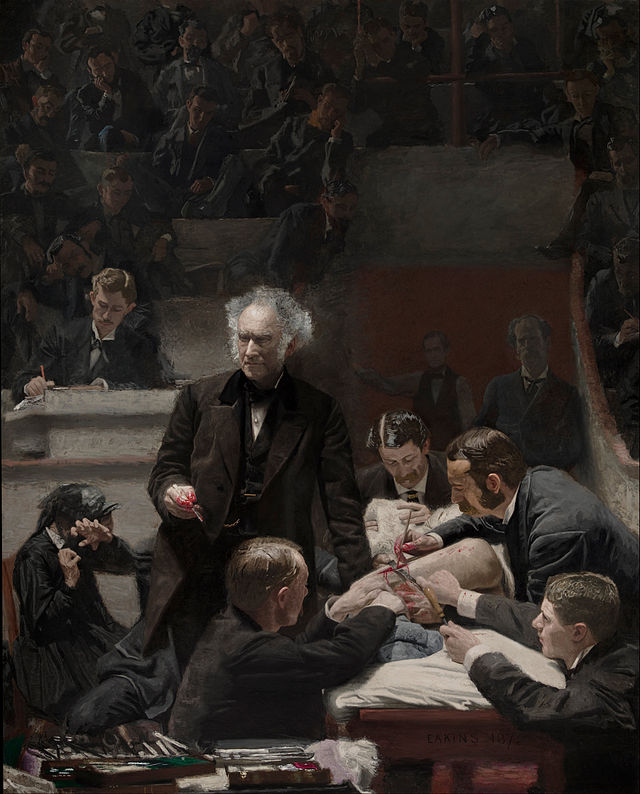 They cleaned out his hip and drilled into his femur, turns out that what they drained was streptococcal which is the same strain as that which can cause meningitis. We were mightily relieved and, whilst hoping to come home by the weekend had to be told that, with his age, they had to keep him in for a few days at least, for daily checks.
One of his nurses was a Blue, made up to see my attire, talked about how he'd taken his little girl to her first game against Espanyol in the summer… it filled my heart with hope that one day I can do the same.
Days went on and the tests thankfully abated, but resulted in him being fitted with an odd looking contraption called a Pavlik's harness – appropriate for Oktoberfest, as it looks a bit like lederhosen – meaning that still, regular changes of his IV were still necessary, so I had another couple of days in the hospital then they eventually came out last Friday evening. In between times, my employers were very supportive and the highlight of the difficult days in between was on one of my days off, literally bumping into David Unsworth on the way home one afternoon.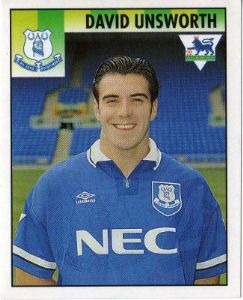 He was in the atrium with his daughter awaiting an appointment and I just wished him all the best with the U23s, explained that he was my favourite player when I was 15, and that the Norwich game was one of my best days as an Evertonian. He simply said, smiling, 'me too' and I left with a smile on my face, thinking we were going to be a complete family again soon… but had to endure a couple more days of Arriva Wifi, expensive coffees, stolen paper cups and cans of Red Bull before being discharged.
You see, some of his samples had had to be sent to Great Ormond Street, which is what we'd been waiting for, and it's still not clear what the long term problems might be such as arthritis but it's much better than it might have been. School had been great to me, like I said, but I had to go back in, if only to teach about Nettles. The wait to be discharged felt like an age, but we got the green light at tea time and on the way out, down the 'helterskelter' of a car park exit as my eldest called it, a friend was on Radio Merseyside and all seemed good in the world.
We were back in there again twice this week, but got some bad news.
Fingers crossed it's nothing too serious. There's not a lot we can do, other than wait… We've been amazed with the professionalism and kindness of each and every one of the staff who have dealt with us. We've also been overwhelmed by the offers of help and support from colleagues, friends, drinking buddies and family, particularly some who've never even met the little guy – and hardly know us – so thanks, if you're one of them.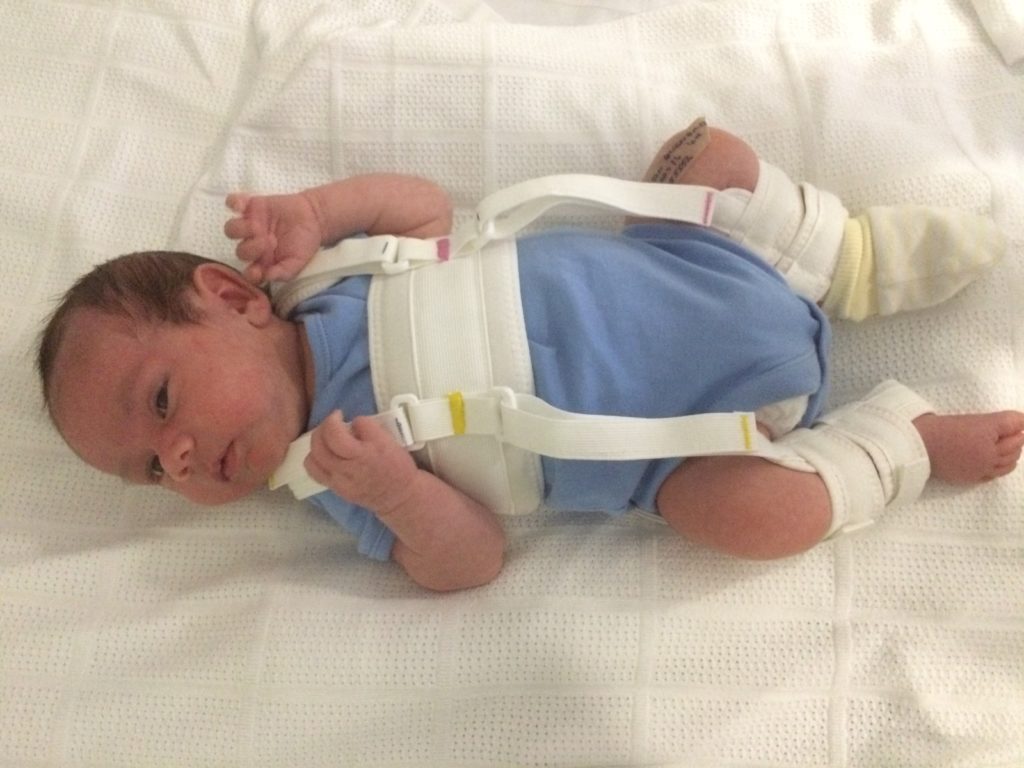 Anyone else wanting to help… You can pray, you can do whatever you can for this wonderful hospital we are so lucky to have, buy the pyjamas they're doing for Christmas – we've got ours – #Earnyourstripes at Matalan – and give thanks that we were lucky and feel more blessed than ever, however difficult this process has been.
As I prepare for going back to 'normal' and reflect upon the maelstrom of emotions that we've been through this past month, I can only summise that this whole experience has really put things into perspective, given that we were on a ward with kids who'd had tumours and leukaemia and a plethora of other bone related ailments whose parents who were living there long term. The kitchen and fridge there were full of staple goods we needed to get through and try to live normally, as normally as we could, anyway… but we were lucky and didn't have to stock up for too long.
We really do acknowledge how fortunate we've been.
Through it all, I tried my best to keep a low profile about it all. Whilst some would use social network platforms to update and inform, and let's be honest, garner attention, I've (largely) kept mine hidden – until now. I decided to explain all because I know that some people will be wondering, others have no idea still.
Anyone who's watched the first new Black Mirror will understand why, because it resonated so wonderfully with the way we rate each other and what we share online. I'm as guilty as anyone – well, not quite everyone – but it's well worth a watch because it leads to periods of introspection that little else TV could.
We have, of course, privately documented the experience to share with Elijah in the future, because just like his emblem – and the mascot of Alder Hey itself – an elephant never forgets.
That includes a hugely difficult and chastening few weeks a world away from the happy days of post birth paradise.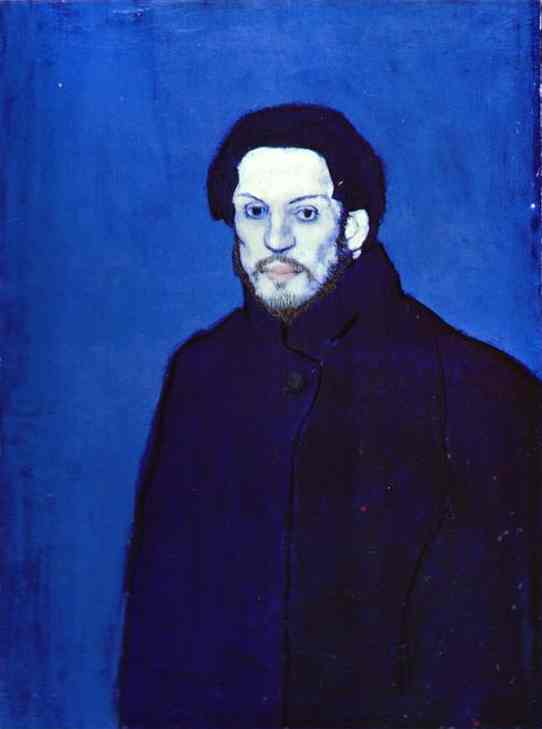 This week, like I said, it's been half term and whilst trying to have a normal week, we have had the admittedly excellent nurses visit every day to change his line and it's heartbreaking not just to see what he's going through because he hasn't got a clue, but also B watching it all and not understanding any of it. The good news is that she's decided she wants to be a nurse, and has tried her best to carry on as normal, producing these amazing drawings – rather aptly, on the anniversary of Picasso's birthday – and whilst our world has been turned upside down, we've tried to keep hers constant, even if they both might have to feel sharp wounds again.
Oh the joys of parenthood!
Life really is what happens while you're busy making other plans…
It's nice to end on something beautiful, positive and creative because, after all, this was initially intended to be a cultural blog about beauty and the sublime in the everyday. The title of this piece is a nod to one of my paintings at least: though my creative wells are dry at present and recently, it has ended up being something of a parental diary but, I do maintain, just like Data's dad Mr Wang in The Goonies nearly said, they're still by far my best inventions.