(Or… 'Let's all read up on the words: 2000' as it refers to not just the length but also 90s indie music, an integral part of what you're about to read.)
Last time around, I discussed the highs and lows of a turbulent few weeks and hoped things would settle down.
To an extent, the opposite happened, because – in the week Europe's highest rollercoaster opened – the heights got higher (and not just because because I spent the large part of the end of term thinking about Everest, reading extracts, watching the excellent film and somehow in between marking numerous responses) and further depths were plumbed as the ignoring the ignorami who celebrated not the derby victory but instead the defeat, thinking perhaps it somehow matters when the world is rapidly unravelling.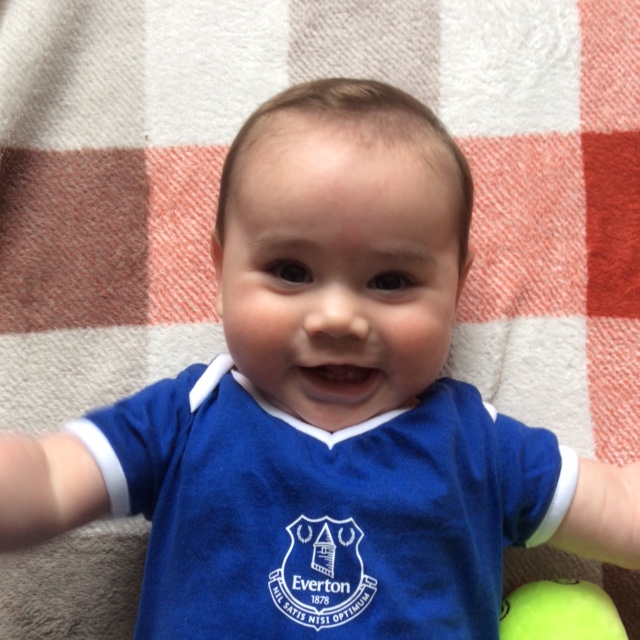 Class and dignity, class and dignity.
It's lovely to think the eternal optimism might one day come true; that the good / deserving / morally superior underdog will have its day, but I gave up on that notion a long time ago and now just take solace in expectations not being dampened. I hadn't even watched the most part of the game, because we had to go and pick up B's new football kit – a Scotland one, shocking pink and she loves it – and as many of you know, time is irrelevant where children are involved, hence why it's taken me so long to write this rubbish.
Talking of Trolls, and the colour pink, we've watched a lot of that recently, and I like the moral of the story… Be positive, you influence people more than you know, that sort of thing. Plus, extra time off resulted in some accessing of new series such as The Trip to Spain (brings back wonderful memories, if only we could have managed a similar trip this holiday) Inside No.9 (deliciously dark and macabre) and Iron Fist (enjoyable enough alternative fare from Marvel) and some actual art work in the form of the Sefton Open at Atkinson in Southport.
I'll be honest, it was a mixed bag of chocolate box art and quality stuff with some real gems hidden within. The highlight was probably a set of sculptures which linked nicely to some other art I accessed (more of which later) and gave me food for thought in terms of future projects I may or may not have time to produce.
I'll aim to get involved next year.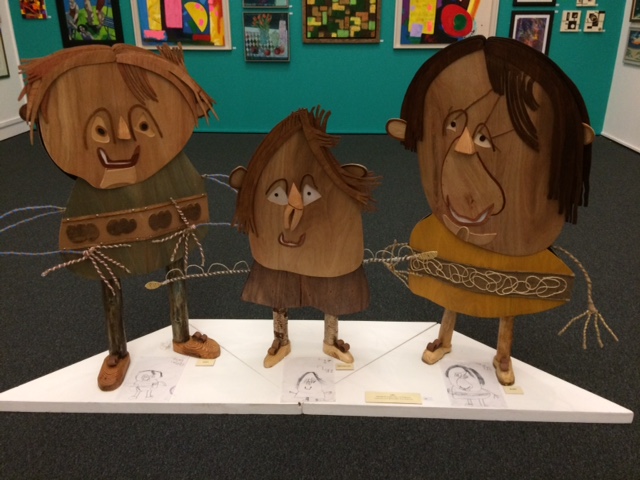 In terms of years, we were in Southport to celebrate our five year wedding anniversary; well, the day before it anyway. Going back to our venue of choice, with regular returns in between, was magical, and allowed for a period of deep reflection – introspection – which was enhanced further by an unforgettable day out which I have to now document.
"Throw those curtains wide… One day like this a year'll see me right" sang the lyrics of one of our wedding songs, and we concur completely, making it an annual resolution to devote one day on or around our anniversary every year to go and eat and drink somewhere special and reminisce… whilst savouring every mouthful.
In previous years, this has involved trips to Nice, L'Enclume, Manchester House and Northcote.
This year's wood be the best so far, for a plethora of reasons.
I knew to expect great things of Adam Reid's food, at the French inside the Midland Hotel in Manchester.
Not just because he had impressed during last year's Great British Menu series, winning one of the course, but because I'd liked the cut of his jib during a fascinating documentary from a couple of years ago which featured the restaurant and its rival – Aiden Byrne's similarly impressive local rival – and Adam's dedication and professionalism shone through.
A couple of years later he represented the chefs of the North West, and If you didn't see him wow the critics with his wonderful apple dessert last year, you can of course watch it here:
It being a Wednesday lunchtime, I didn't even expect the chef to be present, but saw him arranging the playlist halfway through our meal and then had a great conversation before we left.
Ah, the playlist – perhaps what set this meal apart from the others.
https://www.youtube.com/watch?v=T8YCSJpF4g4
Apparently chosen by the chef himself, and a recent introduction to the restaurant during a rebrand, the music was a welcome oddity which somehow enhanced our eating experience. Initially, I'd not noticed the music but on receiving our sparkling English wines (a nice nod to the L'Enclume family tree) Hand In Glove started playing and there felt a strange synchronicity in choosing here to celebrate our half a decade of wedded bliss (and the last, most difficult year) and all felt right in the world.
Service being impeccable, we proceeded to devour the six course tasting menu with aplomb and fervor at a nice pace, enjoying the music meanwhile. Gems such as an acoustic 'How Good It Was' and 'Five Years' Time' (the lyrics of which I had sent to WW on the train there) seemed perfectly picked, then sixties classics, Hacienda anthems… the music really made the meal.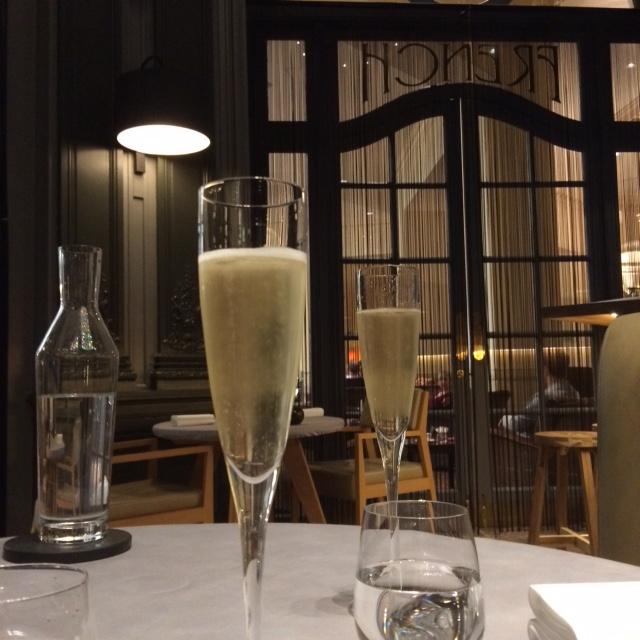 The food? Very special.
It started with a cod's roe dip – connoting WW's heritage and taramasolata  -with deep black squid ink wafers which were like the most intense prawn crackers going, just black.
Then came the wonderful 'Crispy Trotter, Pickled Onion' which doesn't do justice to the first starter, because the meaty filling oozed of pig and the little – spherifications? – of pickled onions, reminiscent of the finest snacks of childhood, Monster Munch or Space Raiders or even just Sarsons' finest.
Before I go on, be prepared for some photos of our food.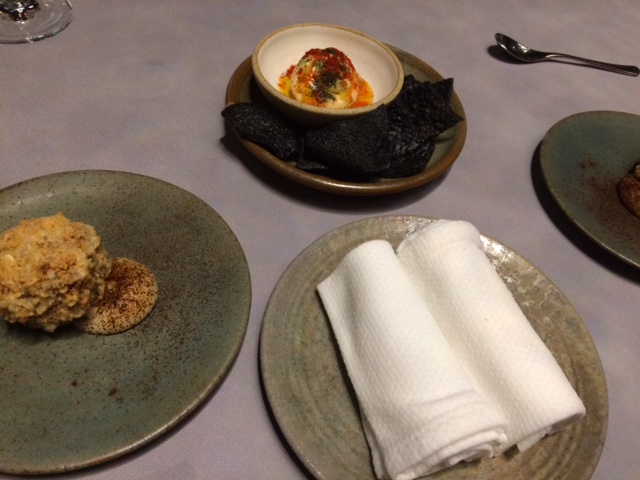 I've been reading a lot about food and its appearance, largely due to the release of a book on so-called 'gastroporn' and the importance of how food looks. It's called Gastrophysics, with a foreword by Heston Blumenthal, and apparently discusses how a meal's appearance can affect its taste. As someone who regularly photographs his own meals, and tries hard to make his little girl's tea look interesting and enticing, I'd concur, though, when this month's Waitrose magazine has features on how to Instagram meals effectively, I'll take it all with a pinch of salt (literally) because it also features illustrators and stylists who make a living out of faking it.
Some people, though, do make food both aesthetically pleasing and sublimely tasting and this takes us swiftly back to the French and our six courses.
Not only were they equally beautifully presented, but, like Ricky Fitts in American Beauty, I needed to remember them, so without a sketchbook, wanted to document this incredible experience.
I was also drinking a lot of wine, because, having opted for the wine flight, our excellent and knowledgeable Sicilian sommelier (he grew up in a winery, what a life) plied me with the usual and unusual accompaniments plus an outstanding alternative add-on which was like nothing I've ever tasted; a Sicilian orange wine, flatter but punchy and well worth the consideration.
It went nicely with the second starter, though the red wine offered, was a wonderful surprise given the broccoli and cheese & truffle mousse we were encouraged to dip it into. I'd say this was the next sign that things were going to be somewhat alternative today, which nicely supported the quote that 'Manchester, they do things differently there': an adage which I've always stuck to, despite ignorant colleagues' protestations otherwise.
Next came the bread, sourdough and Manchester Ale, with two butters and a beef and onion broth which had to be tasted to be believed.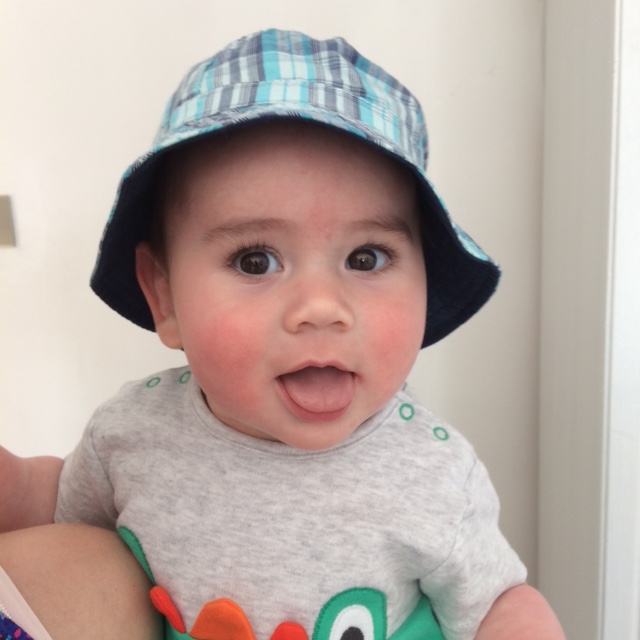 Manchester was my heaven (and here's a cute picture of E as a Stone Roses fan, as if to prove it)
Similarly, the course which arguably stood out the most, was the Steak Blue with the great white (Le Grand Blanc) which was another nod to the L'Enclume what with the charcoal oil, the nastursiums, the beautifully sliced mushrooms and their tasty catsup.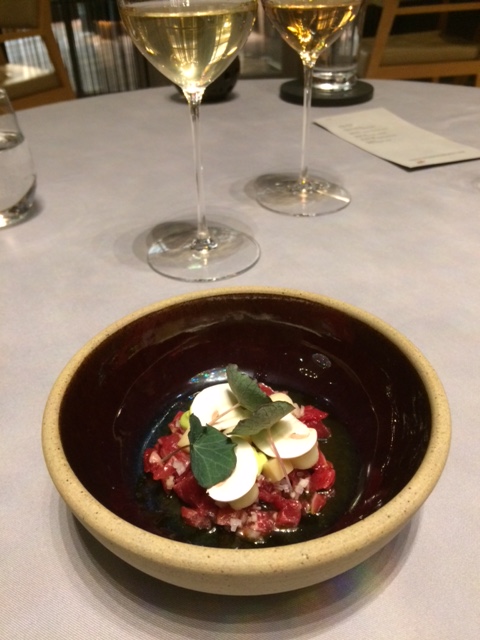 Next came the disc of pure white Cornish cod, with delightful shrimps and butter and green and white asparagus that melted in the mouth, all accompanied by a Portuguese rose, then a perfectly cooked slab of duck with an incredible beetroot sauce, crispy kale and a saucepan of thick, intense confit duck leg which I could have happily eaten forever. I didn't, because there were still two courses to go – and they were even more special.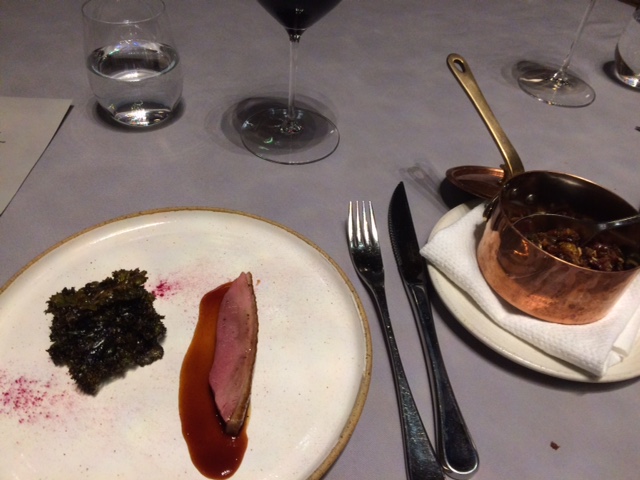 Through the beauty of Instagram, I had clocked our dessert on the train that morning, and was taken by its lush greenness. I wasn't expecting the Kalamansi to taste as it did, however – of the eponymous citrus fruit I'd never heard of before – plus sorbet and white chocolate, when it looked like a lime Starburst.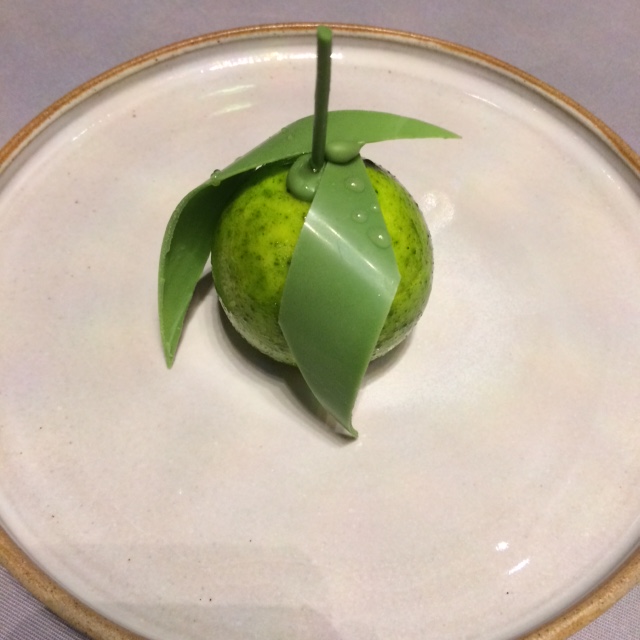 We simply had to order the Golden Empire, too.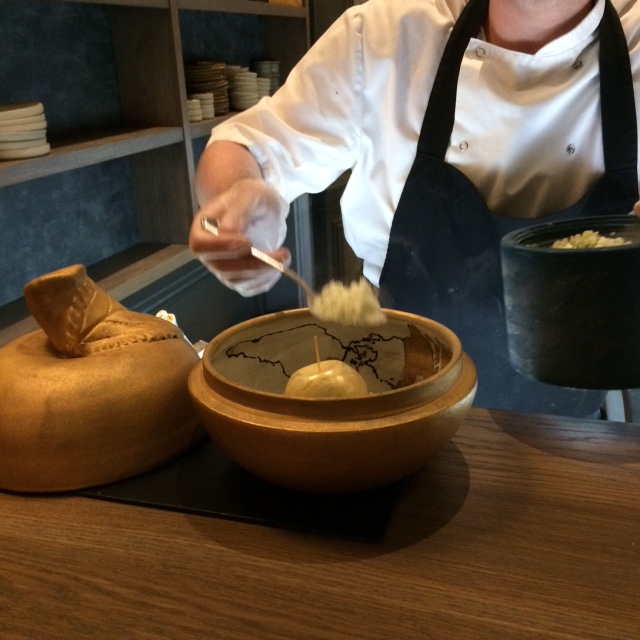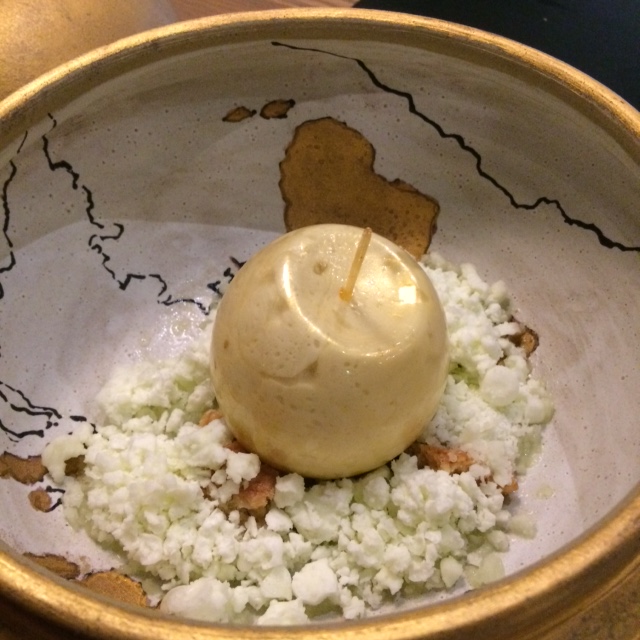 We were then called up to the service bar to witness Adam's signature dessert being prepared by his wonderful protégé, who was only twenty but so enthusiastic and already experienced and clearly enjoying his experience immensely. As he filled the blown sugar apple, the theatre of the occasion came to the fore, and the idea that we were being made to feel very special, and were about to taste something equally so – arguably the best dessert in the country – in amazingly decadent golden bowls with handpainted maps inside and perhaps the appliest things we'd ever tasted.
There followed a twenty minute conversation with the main man himself, a terrific insight into his ideas and careers, our views on certain critics and food trends, the choice of music on the playlist…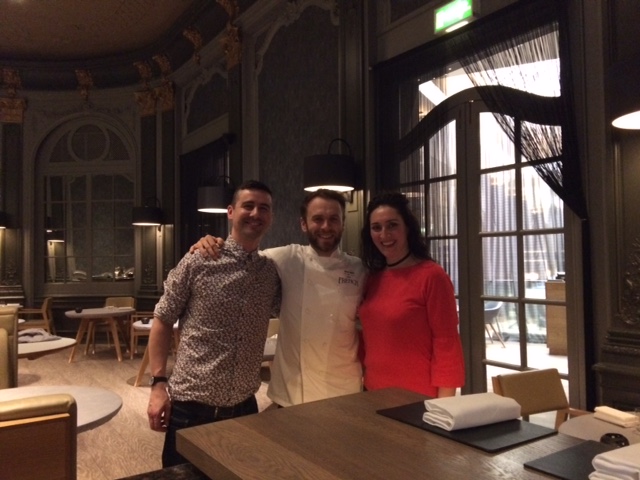 I can't recommend this place enough.
It was the perfect place to celebrate our five years of marriage, although the beauty of having a babysitter – and it still only being 4pm when we left – was that the night was yet young and Cottonopolis was our oyster. After a tour of the hotel by the generous and hospitable doorman, we walked out into the sunlight and stopped by The Temple bar (made famous by being 'the hole in my neighbourhood down which of late I cannot help but fall' in an Elbow song) then beers and new pound coins in Albert's Schloss, a classic beer hall. We also stumbled upon a pop-up Peroni bar for beer cocktails, tapas and a taste of our mini-moon in Madrid at El Gato Negro, before something more familiar at the MCR branch of excellent Catalan deli Lunya before a tipsy train home.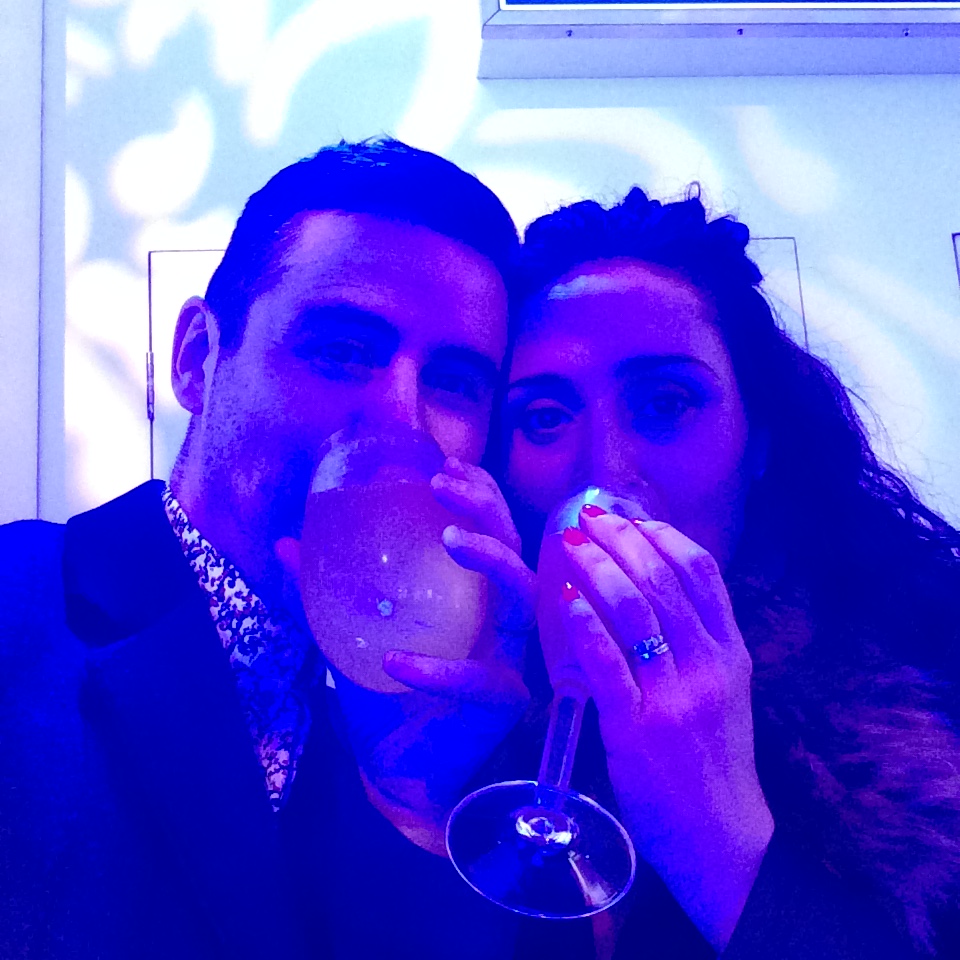 All in all, then, the perfect day – with an event the following morning to further cement this concrete love.
Tattooing has long fascinated me; long before my 21st first effort, shamelessly influenced by the work of Douglas Gordon and Peter Blake (and a tattoo of Johnny Depp's, fact fans) I then waited until marriage and kids before my second and then, three more years 'til my third. I can see how people get 'the bug' and want more, and I do too, although they will need to have similar personal meaning and symbolism and I kind of want a few years without major life events, thank you very much.
Having been inspired this time by – wait for it – a tattoo on my tattooist's arm last time around, that his son had drawn, I kept that idea in my head and, wanting to preserve this precious time of development as B begins her artistic career – plus, to document their lives so far, incorporating his strength in adversity and her name and buzzing personality (including my interest in the worker bee and all it stands for, including being the symbol of the People's Republic of Mancunia) but all of this is irrelevant because I'm sure, hearing about people' reasons for their tattoos is nearly as bad as their dreams and you just want to see it now that it's healed (the coconut oil worked wonders.)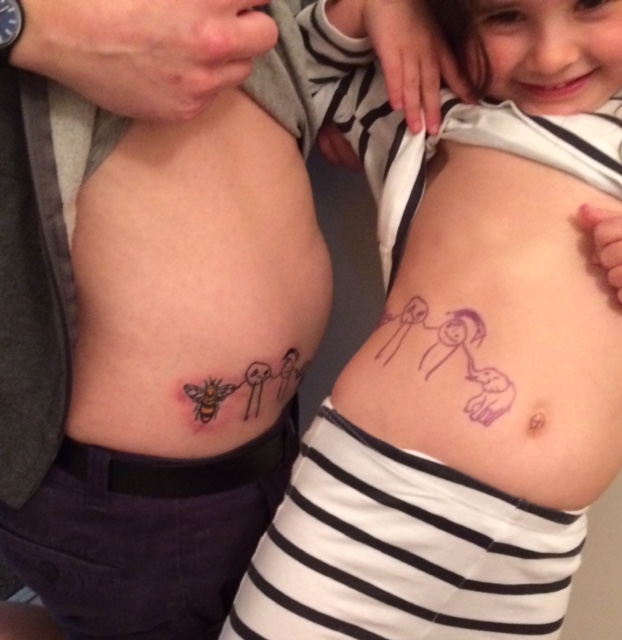 It was most exciting for B to see her artwork etched on my skin, and despite being pretty painful, I hope one day she will realise that this love will last forever… even if her drawing style won't.
Happy Easter.